30th March: Online Open Projected Competition – Judge, Peter Greenway CPAGB, LRPS
Many thanks to Peter Greenway for his analytical and thoughtful critique of last night's competition images.
Congratulations to Ian Roberts for his winning entry "Adult & Juvenile Starling – Aerial Battle" ;  Peter Keeble's "The Inquisitive Orchid" was second and Julia Wainwright's "The Amber Eyes of a Cheetah", third.  Dave Martin's "Beach Stones", John Draper's "Crocuses" and Alan Colegrave's "Long Way Down", North Oman" were highly commended.
Thanks to everyone who entered and came along to support the evening and to Peter for his judging.
All the images may be seen on our Facebook page.
In the meantime,  here is Ian's winning image………….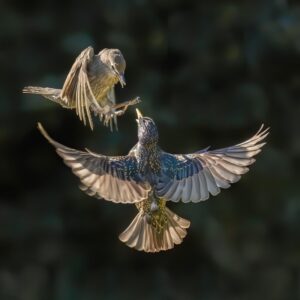 Happy Easter everyone and we are back on 13th April.  In the meantime, stay safe and well.